Published January 15, 2019
2019 Honda Accord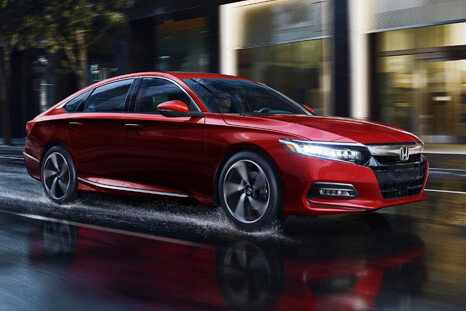 The 2019 Honda Accord: roomy, economical and cute
There are no compromises when it comes to space and power in the new 2019 Honda Accord, on sale now at Chambly Honda in the South Shore area of Montreal. Even before you experience the comfort of the passenger compartment, you'll already have fallen under the spell of the Honda Accord, a perennial leader in the midsize category.
The great drivability you've come to expect
Honda has always taken pride in offering high-quality cars, and this trend continues in the new generation of the Honda Accord with its admirable handling and exceptional performance, regardless of road conditions. Besides being dependable and energetic, without being energy-intensive, the engine stacks up to respond to all your needs and your desire for freedom.
More precise, refined, comfortable and roomy than the previous editions, the 2019 Honda Accord has become one of the greats, outperforming every competitor in its class. It's even better than anyone imagined! Its numerous features managed to make an impression on automotive journalists from the get-go.
The 2019 Honda Accord: safe despite its power
As the professionals at Chambly Honda in the South Shore area of Montreal will be more than happy to demonstrate, the power of this car won't interfere in the least with the safety of your passengers. Every Honda Accord is equipped with active safety features that anticipate or, better yet, prevent front-end collisions, making your driving experience more pleasant than ever.
In this area, Honda remains one of the top performers in safety tests carried out by independent firms. If you still aren't convinced, don't hesitate to come visit us at Chambly Honda, so we can show you all the wonders the 2019 Honda Accord holds in store for you.