Published July 16, 2018
2019 Honda Civic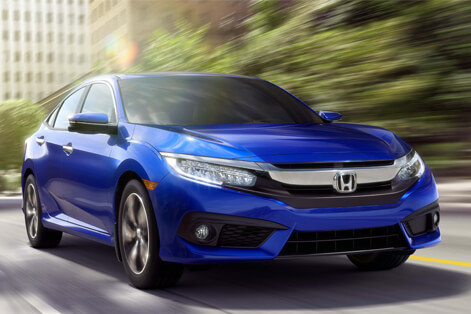 The 2019 Honda Civic: Coming Soon to Chambly
The Honda Civic hasn't enjoyed a two-decade run for nothing. The best-selling car in its class in the country for 20 years now, this little sedan is an undeniable favorite of motorists, not only for its dependability and numerous practical aspects, but also for its unbeatable value, with a wealth of driving pleasure at an affordable price. For 2019, Honda is giving us a little breath of fresh air with the Civic, which includes a few modifications in both the interior and the exterior.
The 2019 Honda Civic: patience is a virtue
We're all eager to discover the new 2019 Honda Civic. Considering that its current aggressive, sporty look was unveiled in 2016, we expect that the 2019 model will feature a few modifications. However, it's fitting to point out that the style of the Honda Civic is already one of the most mature and fashionable in its class. So the changes in the 2019 Honda Civic will most likely be limited to a few little tweaks to the grille and hood, the front and rear bumpers and perhaps the style of the fenders.
The passenger compartment of the 2019 Honda Civic will be even more refined than that of its predecessor. As it is, the 2018 Civic boasts a highly intuitive cabin, where every control is within easy reach and comfort is a given. The powertrain will probably remain the same: either an excellent 2.0-liter 158-horsepower engine or an optional 1.5-liter engine, generating 174 to 180 horsepower, depending on the model you choose. Rumor has it that the 2019 Honda Civic Hybrid will be in the spotlight for the coming year, completing the Honda hybrid lineup alongside the Honda Clarity and the Honda Accord Hybrid.
Are you planning to make the 2019 Honda Civic your next purchase? Then don't hesitate to stop by Chambly Honda to learn more about this highly anticipated model. If you can't wait until it gets here, feel free to visit us in the South Shore area of Montreal and take the 2018 Honda Civic for a free test drive today.