Published January 10, 2019
2019 Honda HR-V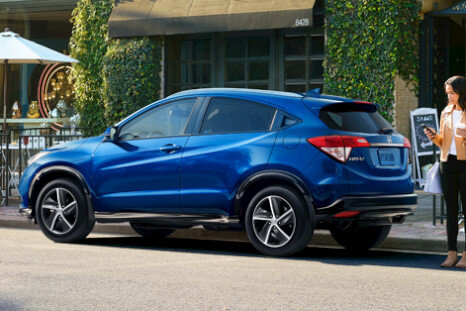 The 2019 Honda HR-V: Now Available at Chambly Honda
The 2019 Honda HR-V has arrived at Chambly Honda! Fully redesigned, this versatile crossover offers you contemporary styling, a passenger compartment that can be configured to suit your needs and numerous features to make your day-to-day life easier.
The all-new design of the 2019 Honda HR-V
Several esthetic elements of the 2019 Honda HR-V have been updated for the new year, notably the grille, which now includes chrome trim that extends from around the emblem to the area above the headlights. These projector-beam headlights now reflect the new Honda design image, which is also found on the 2019 Honda Civic. In the Sport and Touring models, which have been added for the new year, you'll find black accents and 17-inch alloy wheels, giving them a distinctive, prestigious appearance.
On the inside of the 2019 Honda HR-V, you'll find dual-zone climate control, a driver's seat with manual height adjustment, available leather-trimmed seats and shift knob, a standard multi-angle rear-view camera and a large 7-inch touchscreen that's compatible with your smartphone, thanks to Apple CarPlay and Android Auto connectivity.
Performance and efficiency in the 2019 Honda HR-V
The 2019 Honda HR-V features a quiet, continuously variable transmission (CVT) for a more organic driving experience. You'll also find several enhancements designed to reduce noise in the passenger compartment, such as improved soundproofing in the fenders and floorboard, as well as the inclusion of Active Noise Cancellation (ANC) in the Sport and Touring models. With all-wheel drive now standard on all models, the 2019 Honda HR-V has no fear of turns or difficult road conditions, especially when equipped with the available Intelligent Control System, which provides a more intuitive response when the vehicle detects any loss of traction.
To discover the numerous safety systems in the 2019 Honda HR-V and to experience its comfort and handling for yourself, come to Chambly Honda in the South Shore area of Montreal, where our team will be more than happy to let you take this subcompact SUV for a free test drive, in addition to explaining all the available custom financing options that respond to your needs.