Published May 14, 2018
2019 Honda Insight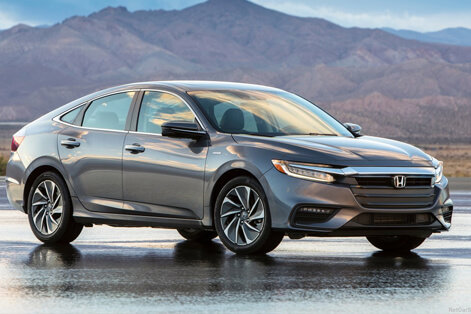 The 2019 Honda Insight: Coming to Chambly This Summer
Are you ready for the arrival of the 2019 Honda Insight? This top-of-the-line hybrid sedan will soon be available at Chambly Honda! Sitting between the Civic and the Accord, the 2019 Honda Insight features classic, elegant looks that resemble those of a gasoline vehicle more than a hybrid. Its svelte, refined silhouette is sure to be appreciated by more than a few.
The Honda Insight: a little history
The new 2019 Honda Insight isn't the first incarnation of this vehicle. In fact, the first model Insight came out in 1999. A second generation then entered the automotive market in 2009 and stuck around until 2014. So Honda is anticipating a big comeback for the vehicle in 2019! This will be the third hybrid in the Honda lineup, after the Honda Clarity and the Honda Accord Hybrid.
The fact that Honda is going green with these models is only the beginning of an extensive strategy known as the Honda Electrification Initiative, which aims to release electric versions of most of the manufacturer's new models in 2019. It's not only the cars like the 2019 Honda Insight that will benefit from these technologies, but the Honda trucks, too!
A three-part powertrain for the 2019 Honda Insight
Honda proposes a winning combination for the 2019 Honda Insight. A 1.5-liter Atkinson gas engine will be accompanied by an electric motor and a hybrid battery pack. Under most conditions, the gasoline engine will serve as a generator to charge the battery pack. The combination will deliver 157 horsepower and 197 pound-feet of torque. And as for fuel consumption? It's estimated to be at least 4.7 L per 100 km!
Both inside and out, the 2019 Honda Insight offers more than its share of comfort and elegance. Available with leather upholstery, a central 8-inch touchscreen and 17-inch aluminum rims, the 2019 Honda Insight will also be equipped with an aluminum hood that's exclusive to the model, as well as LED headlights, daytime running lights and taillights. It's also deemed to have the roomiest passenger compartment in its class!
At Chambly Honda, we can't wait to introduce you to all the new features of the 2019 Honda Insight! Please don't hesitate to contact us to learn more about this luxurious and innovative hybrid sedan.