Published May 24, 2019
The 2019 Honda Clarity Hybrid: the greenest Honda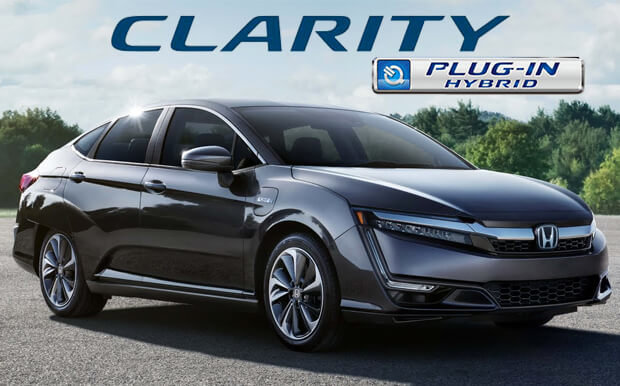 The first thing that comes to mind when you think about the 2019 Honda Clarity rechargeable hybrid is its performance. It's environmental performance, that is.
You could talk at length about the hybrid drivetrain that can be fueled by the internal combustion engine, about the electric motor or about both. That alone is worth the price of admission.
But you could go on to talk about the Honda Clarity's incomparable range of nearly 80 kilometers in electric-only mode, with zero emissions.
And if you do have to resort to the 1.5 L four-cylinder Atkinson engine, which can produce 181 horsepower, you can travel from Chambly to Rimouski, Val-d'Or or even Toronto on a single full charge. That's more than 545 kilometers in one stretch with the 2019 Honda Clarity Hybrid.
The totally elegant 2019 Honda Clarity Hybrid
Let's go even further and talk about the aerodynamic body. The Clarity is low and wide, which increases its energy efficiency and, as a result, it's contribution to green driving.
Here, you'll recognize the much-appreciated Honda touch. So much so that you can opt for an electric vehicle that greatly resembles a car you might call more traditional. With the Honda Clarity, you get the best of both worlds.
Especially since the roomy passenger compartment, premium materials adorning the interior, full-size trunk and avant-garde technology will ensure that you appreciate every second you spend on the road. Regardless of whether you're going to work or heading out on an extended getaway with the family.
And while we're on the topic, there's no need to worry about safety since Honda offers a whole host of safety features. You can take the wheel with total confidence and self-assurance.
Come see us at Chambly Honda to learn more about this vehicle that's steering us toward the future.