Published May 11, 2018
The 2019 Honda CR-V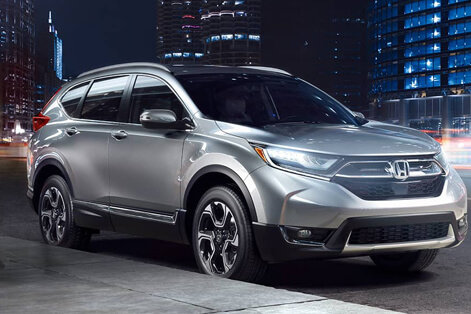 The 2019 Honda CR-V: An SUV with Something for Everyone
Do you need more room, more comfort and more dependability? Are you looking for a new vehicle that will satisfy all of those needs? Well, you're in luck! The best-selling SUV in the world is back for 2019, more versatile and dynamic than ever. With numerous improvements, the 2019 Honda CR-V promises to be a big hit.
A new powertrain for the 2019 Mazda CR-V
It's not only the muscular profile and sporty design that will turn heads every time it goes by. The 2019 CR-V will also house an all-new 1.5-liter VTEC turbocharged gasoline engine, deploying a surprising 190 hp and 179 pound-feet of torque. Thanks to the Honda CR-V's all-wheel drive, Smart Control System and continuously variable transmission (CVT), offering a seamless range of gear ratios, you'll be able to focus on enjoying a comfortable, intuitive driving experience, with the confidence of knowing that you're prepared for anything that might happen on the road.
The 2019 Honda CR-V: well-planned space
Do you need more room? Here's what the 2019 Honda CR-V has to offer: It all starts with a hands-free power rear liftgate with available programmable height. Next, you have easily retractable rear seats with a 40/60 split, so you can configure the SUV according to your cargo, to provide the best possible fit. With the two-level load floor, you'll have the possibility of a flat floorboard or drastically increased load capacity. And once you've finished loading the vehicle, you can close the liftgate automatically with a gentle kick under the rear bumper. With the CR-V, multitasking becomes child's play. Do you need even more space? The gasoline version of the 2019 Honda CR-V is available in a three-row configuration that seats seven, a first for this model.
The latest technologies in the 2019 Honda CR-V
The driver—as well as the passengers—will be spoiled by the cabin of the 2019 Honda CR-V. Perforated leather power seats that are adjustable at 4 points for the passenger and 12 points for the driver offer incomparable comfort. Operation of the vehicle will be facilitated by a number of cutting-edge technologies, including rain-sensing windshield wipers and dual-zone automatic climate control. Do you feel like treating yourself to something really special? You can customize your 2019 CR-V with a multitude of options, like a heated steering wheel, heated rear seats, LED daytime running lights and headlights, and a power sunroof that opens with the push of a button.
Elegant and sporty, spacious and utilitarian, the 2019 Honda CR-V promises total confidence behind the wheel. Be on the lookout for its imminent arrival at Chambly Honda, your dealership of choice in the South Shore area of Montreal!