Published September 6, 2018
The 2019 Honda Pilot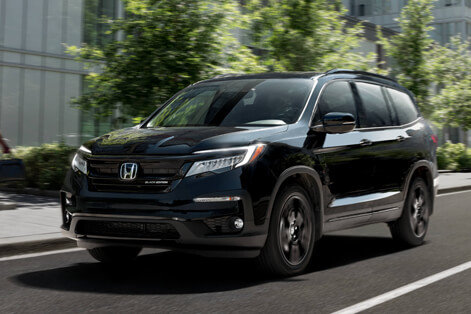 The 2019 Honda Pilot: Available Now at Chambly Honda
The 2019 Honda Pilot is sure to dazzle you! This roomy, comfortable SUV boasts a contemporary design and cutting-edge technologies to keep you safe and entertained on the road. Now available at Chambly Honda in the South Shore area of Montreal, the 2019 Honda Pilot invites you to grab the wheel and head out on an adventure. Start enjoying its combination of brains and brawn today!
The 2019 Honda Pilot: roomy and practical
The 2019 Honda Pilot has a passenger compartment that will change the way you think about travel. Not only does it have all the comfort you could ask for, with available heated and ventilated front seats and adjustable second-row seating for easy entry and exit, but it's also highly practical. The rear seats with their 40/60 split will prevent you from having to make additional trips, while the Touring version will allow you to transport up to eight passengers. Do you need some fresh air? The panoramic roof, available in the 2019 Honda Pilot, will provide increased natural light, as well as a generous opening on the world around you.
The 2019 Honda Pilot: breathtaking design
Why ride around in a sports car when the 2019 Honda Pilot has contemporary looks and unparalleled elegance? With its new grille, its updated front and rear end, and its athletic hood, you'll feel like you're driving a deluxe sports vehicle, while enjoying a passenger compartment that's much roomier and more comfortable. You'll also love the numerous available exterior options, especially the 20-inch aluminum alloy wheels and LED fog lights.
Set your course for adventure aboard the 2019 Honda Pilot
Under the hood of the 2019 Honda Pilot, you'll find a 3.5 L V6 i-VTEC direct injection engine, delivering 280 hp and 262 pound-feet of torque. The Variable Cylinder Management (VCM) system enables the engine to run on 3 cylinders, depending on road conditions and driving style, so you can maximize every liter of fuel that's consumed.
Is the 2019 Honda Pilot the solution for your family? Stop by our dealership in Chambly and take it for a free test drive so you can discover all its assets for yourself. Whether you're looking to lease or finance, our team is here to serve you. Contact us today!