Published December 14, 2018
The 2019 Honda Ridgeline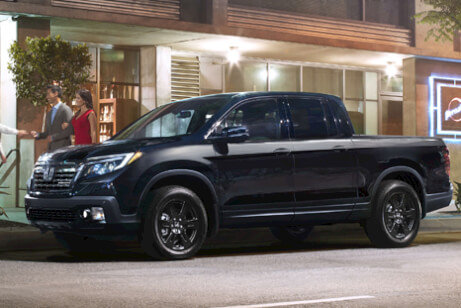 The 2019 Honda Ridgeline
There's no doubt that the undeniable ruggedness and impeccable good looks of the new 2019 Honda Ridgeline will catch your eye. Besides its comfortable cabin and noteworthy load capacity, this pickup offers impressive fuel economy, making it ideal for your everyday commutes. Here's a little glimpse of the brand-new 2019 Honda Ridgeline, available at Chambly Honda in the South Shore area of Montreal.
Performance and efficiency in the 2019 Honda Ridgeline
The 2019 Honda Ridgeline is equipped with a 3.5 L V6 i-VTEC direct injection engine with Variable Cylinder Management (VCM). Combine that with its 6-speed automatic transmission and your adrenaline rush is guaranteed. Capable of handling just about any road conditions, the smart all-wheel drive system can adapt to snow, sand or mud. Independent rear suspension ensures passenger comfort, no matter how many dips, potholes and bumps the road may hold in store. And despite its power, the 2019 Honda Ridgeline exhibits the best NRCan fuel consumption ratings in its class (all-wheel drive and four-wheel drive gas pickups).
The 2019 Honda Ridgeline: unbelievably practical
The 2019 Honda Ridgeline pickup was designed to simplify your life. The bed, which is resistant to UV rays and scratches, offers impressive dimensions (5' 4" x 5') and can transport 4 x 8 sheets of plywood lying flat, thanks to 4' 2" of space between the wheel well housings. Are you impressed? It's effectively the only pickup on the market to offer that much space. You're also going to appreciate the Dual-Action Tailgate, which can open down flat or sideways for quick, convenient loading.
The 2019 Honda Ridgeline has more than one trick up its sleeve. With reassuring safety features, a spacious, comfortable cabin and nifty entertainment technologies, this pickup promises you many years of driving pleasure. Come discover it at Chambly Honda today!